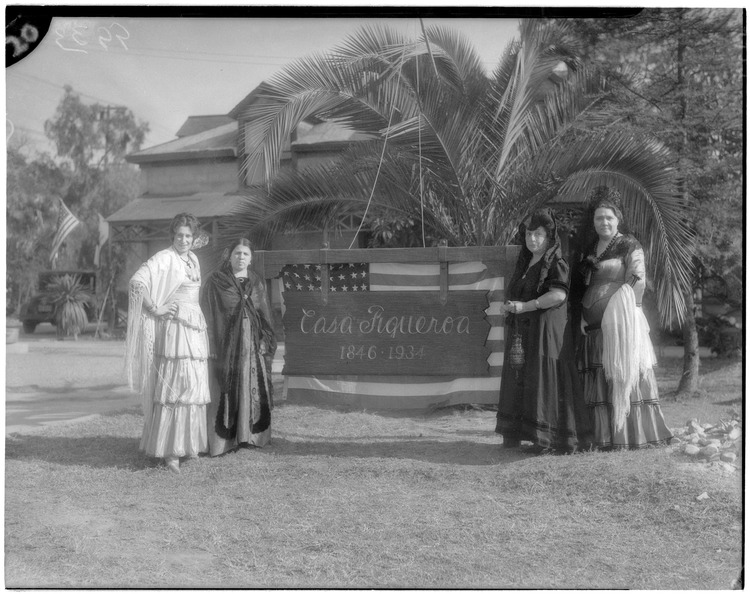 As the former Secretary of the Historical Society of Southern California, Ana Bégué dePackman's collection offers up a wide range of artifacts coming from her unique point of view and position as both an author and a keeper of history. Her collection of photographs, newspaper articles, manuscripts, genealogies, maps, ephemera, and correspondence all date between 1870 and 1973, and they represent subjects such as the California Missions, the Ranchos and adobes, Los Angeles history, and Packman herself. Within the fourteen boxes of the collection located in UCLA's Special Collections Department, the material is organized by subject, and navigating through the boxes and folders is made easier with the help of the finding aid. Most of the boxes and folders are clearly and accurately labeled with the contents such as boxes 7, 8, and 9 which are all divided up based on rancho. However, general subjects such as Packman's "correspondence" is broken up by year and gives little detail as to what the correspondence is in reference to.
The first part of the collection, labeled "correspondence", tells the story of Ana Béguéde Packman's life through the lens of her own letters. We see her life progress through her book publications and speaking events as well as through her role as the Secretary of the Historical Society of Southern California. The remaining boxes tell the story of California through newspaper articles, Packman's personal notes, brochures, and photographs of historic buildings, the California Missions, and the history of land that today makes up Southern California. These artifacts from Packman's personal collection allows researchers to view history through the lens of a woman in that time. By analyzing her writing style, word choice, content choice, and overall collection, researchers gain necessary and valuable context clues that would be lost if removed from this specific collection. Upon further inspection, viewers can uncover the histories of the ranchos, missions, and iconic Los Angeles buildings by noting not only which stories Packman included, but also which stories are still unheard.
Ana Bégué de Packman's collection offered up many interesting finds. Throughout the Rancho boxes, maps of historical Los Angeles give insight to how the city was structured and organized. Some maps were bigger than the table and were done in color, which provided more detail than was imaginable. Other maps were hand drawn on a single side of paper and were almost personal in their construction. Another wonderful find was the cattle brands, hand drawn and repeated throughout the papers, notes, and photographs. Each brand can be traced back to a specific man or family, and each was unique in its design and use. The cattle brands also helped loosely organize papers by marking which document in a folder referred to which family, solely based on a hand drawn symbol in the corner or margins.
Many aspects of Ana Bégué de Packman's collection provide for a unique and special research experience. Her personal notes and annotations, along with her detailed descriptions, maps, photographs, and more paint the picture of life in the early to mid 1900's. By starting with her personal documents and then moving towards the historical artifacts she collected, researchers begin to view the contents using Packman's own perspective as the viewing glass. Generations to come will be able to benefit from this collection, all thanks to the foresight ofAna Bégué de Packman.